New York City, the "big apple" and the most populous city in the United States, is in many ways the country's unofficial capital—sort of an "ambassador city" to the world!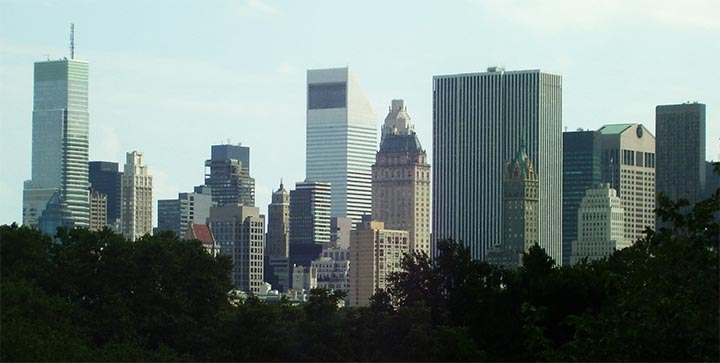 With a population of over 8.5 million today, the City of New York has much smaller, agricultural roots than one would expect. Originally populated by Algonquian tribes of Native Americans, the first European settlers to the area were French and arrived in the early 16th century, followed later by Spanish, English, and Dutch explorers. Henry Hudson's arrival in 1609 marked the official beginnings of what would become New York City, with Dutch settlers arriving 15 years later and purchasing the island of Manhattan from the resident Native Americans.
Manhattan was primarly farmland under the Dutch, but after the English took control in the late 1600s, New York (as they renamed it) quickly started turning into the urban epicenter we know it as today, particularly with the consolidation of the then-separate city of Brooklyn at the turn of the 20th century.
Today, New York City is the primary economic and cultural hub of the United States: it's one of the most popular tourist destinations in the world; Wall Street is synonymous with the nation's financial center; Broadway is the world standard for live entertainment.

The number of notable and influential people from New York City is so large it's practically impossible to calculate. Everyone from President Elect Donald Trump; former presidents Theodore and Franklin Roosevelt; actors Robert De Niro, Adam Sandler, and Sylvester Stallone; singer Frank Sinatra; authors Washington Irving, J.D. Salinger, and Walt Whitman; artists Andy Warhol and Roy Lichtenstein; astronomer Neil deGrase Tyson; and thousands, if not millions, of others have all called New York City "home."
If you're one of the millions who've chosen New York City as the place to raise a new family, you'll need to capture all the fun and excitement you have together in pictures, and Tanya Buran can help you do that. Tanya Buran's years of experience photographing newborns and new families in New York City will put you at ease and guarantee you'll always have great memories of growing up in New York to look back on in photos.
For more information about Tanya Buran's Newborn Photography sessions, please visit the Newborn Photography section.